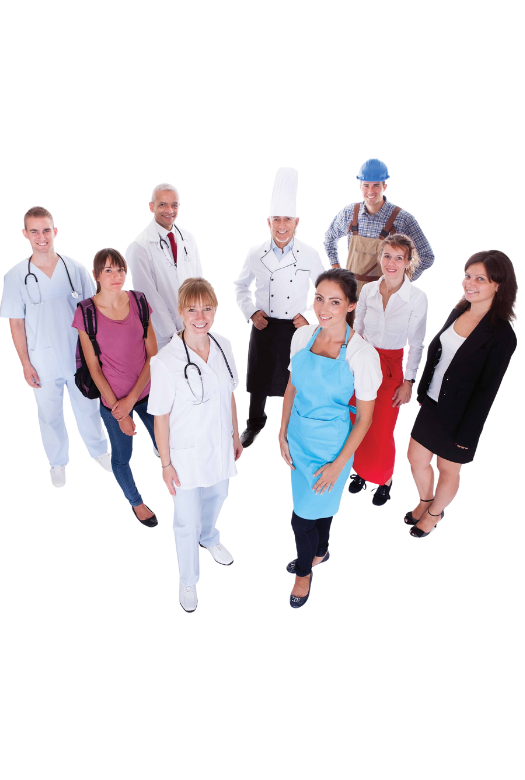 Be the Difference
Careers At Cedar Community
Our team members are the champions and heart of our community–making a difference in the lives of our residents every day! Building positive relationships is what we're all about. We are a family of team members, residents, resident families, and volunteers.
Cedar Community is committed to our team members. We offer more than a paycheck–we offer opportunities for growth and development. 
Be A Champion
Cedar Community is the only not-for-profit, faith-based senior retirement community to provide comprehensive residential
and healthcare services for adults 55 and better in Washington County. Learn more about our career growth opportunities
and discover your unlimited potential.
Cedar Community is an equal opportunity employer
and does not discriminate against otherwise qualified applicants on the basis of race, color, creed, religion, ancestry, age, sex, marital status, national origin, genetic information, sexual orientation, disabilities, or veteran status.
Benefits & Perks
Joining our team comes with many benefits, including working alongside a group of outstanding
professionals–champions who are dedicated to serving seniors with compassion, dignity, and determination.
Medical Insurance
Choose between a health savings account (HSA) plan or PPO premium plan.
Maternity Leave
Six weeks fully paid.
Dental Insurance
Access to a network of dentists with plan discounts using a PPO plan.
Vision Insurance
Offering an annual vision wellness exam and an allowance for contacts or glasses.
Basic Life Insurance
Provided at no cost to you because it's important to ensure your loved ones are financially protected.
Short-Term Disability
Receive 60 percent of your wages, up to $550 weekly maximum.
Long-Term Disability
Up to $5,000 monthly maximum.
Flexible Spending Account (FSA) Health FSA
Pay for health insurance copays, deductibles, and other eligible services and supplies not covered by your medical, dental, or vision plans.
401(k)
A smart way for you to save for retirement with pre-tax benefits. Cedar Community contributes up to four percent of your gross annual salary each year, entirely discretionary upon board approval.
Roth IRA
An easy way for you to save for retirement with post-tax benefits.
Tuition Reimbursement
Pursue advanced healthcare degrees with the help and support of Cedar Community.
Competitive Wages and Shift Differentials
A compensation package that is comparable to the industry standard for the market.
Annual Wage Increases
Increases are given in October of each year.
Paid Time Off
Full- and part-time team members accrue paid time off for those working 20 hours or more.
PTO is accrued for each hour worked.
Holiday Pay
Team members working 72 hours per pay period receive nine paid holidays.
Financial Wellness
When finances get tight, get instant access to your earned but unpaid income. Get up to 50
percent of your biweekly gross pay in advance, deposited directly to your account immediately.
Job Development and Advancement
Opportunities to learn and grow through team building, leadership, and training programs.
Employee Assistance Program (EAP)
This program helps team members and their families clarify home or work problems
and provides direction to resources that help find solutions and get results.
Pet Insurance
For those unexpected illnesses, accidents, and emergency care.
Compassionate Care
Provides funds to Cedar Community team members in need of financial assistance
or additional paid time off from work.
Perks at Work
Access to 30,000+ national and local employee discounts in over 20 categories ranging from electronics, home appliances, food and groceries, travel, fitness, and more. Free online wellbeing classes–live and on-demand classes for both adults and kids from wellness to personal development.
Operation Gratitude
A recognition and rewards program earning points to redeem for gifts. Points are given for hours worked, company surveys, birthday, work anniversary, training completion, national days of honor, and more. Points can be redeemed at any time by visiting the reward gallery online catalog. With 100s of brand name products, arranged by lifestyle categories such as electronics, housewares, sporting goods and jewelry, you choose your own reward and it is delivered right to your door.
Calm App
An app for improving your health and wellness–better sleep, reduced stress, and a centered self.
Referral Bonuses
A team member who brings new talent to Cedar Community may qualify to receive a bonus.
Natural Environment to Enjoy, Explore, and Embrace
Walking trails, natural prairie, and lake access to enjoy.
Join Our Team!
At Cedar Community, we offer more than a job, we offer a career. An exciting opportunity awaits
you to join our exceptional, passionate team at Cedar Community.